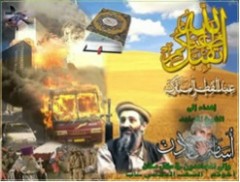 The image is divided into three parts: the right section contains Arabic text; the left section contains a number of overlaid images; and the center, which has the brightest background colors, contains an image of Usama bin Ladin and several other symbols. The image as a whole seeks to highlight the global nature of al-Qa'ida (AQ) and pay tribute to its leaders and others affiliated with it. This is achieved by including disparate images that reference AQ's handiwork. In the top left corner is a representation of what appear to be burning twin towers; under that is an image of a blazing DAF bus. In the bottom left corner appears a Syriac or Eastern Orthodox priest, recognizable by his red head-gear. Flanking him are images of what are likely Soviet/Russian soldiers, and a group of Western uniformed soldiers (possibly Israeli Defense Forces) carrying a wounded or dead person.
The caption reads: "taqabbal Allahu ta'atakum, 'id al-fitr al-mubarak ihda'an ila al-shaykh al-mujahid Usama bin Ladin wa-ila al-mujahidin fi kull makan, akhukum الشهاب اليماني" ("may Allah receive your obedience, and a blessed Fitr holiday to the honorable warrior Usama bin Ladin and warriors everywhere, your brother al-Shihab al-Yamani").  Al-Shihab al-Yamani is almost certainly the creator of the image. The center image of bin Ladin is clearly of a younger one with a traditional northern Afghan Pakol hat, likely to evoke his days as a fighter against the Soviets.
Isolated Phrases / Mottoes / Slogans
Taqabbala Allahu ta`atakum, `id al-fitr al-mubarak
Weapons
Firearms, Automatic / Assault Rifle
Fire
Flames, Burning Object
FIre Analysis
Bus and towers.
Geopolitical Symbols
Slogan
People
Group Leader / Influential figure, Operational Leader, Operative / Warrior (=mujahid), Man / Men
People Analysis
Usama b. Ladin.
Religious Textual References
Other Medieval Text
Religious Textual References Analysis
Holiday wishes and blessing
Topography
Mountain, Desert Dunes, Man-made Structure / Landmark
Topography Analysis
Buildings and vehicles.
Visual Themes
The black cloud of smoke looming over and consuming most of the right section is some expression or sign of divine wrath. In contrast, the white clouds are a sign of Allah's total inscrutability prior to creation. The cloud (sahab, pl. suhub) is the bearer of rain and bounty (khayr, which is also a synonym for rain in Arabic), and is therefore a sign of good things to come. Indeed, it is interesting to note the choice of al-Sahab (the cloud) as the name for AQ's media production company.