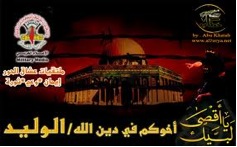 The image is a signature at the tail end of a forum post. The post itself contained the names of those Jund Ansar Allah (JAA) members killed in the clashes with Hamas at the Ibn Taymiyya Mosque in Gaza during August 2009.  The barbwire in the image is representative of Israeli control of the temple mount and the Dome of the Rock. The latter is recognized and revered by all Muslims, but it is a powerful symbol of Palestinian self-determination. It was built in 692 A.D. by the Umayyid caliph `Abd al-Malik on the site where Muslims believe the Prophet Muhammad ascended to heaven in his mi`raj (night journey), and it is considered the third holiest site in Islam after Mecca and al-Madina.
On the `Ushshaq al-Hur forum, the image was accompanied by the words of a PIJ's song: راياتنا سود ……. ولا نهاب اليهود …… في سبيل الله نجود ….. بإرادة وصمود جيشنا الجبار نقود …… نسعى لإزالة إسرائيل من الوجود …. . نحن جند السرايا الأسود ("Our banners are black and we do not fear (nahabu) the Jews; In the path of God we sacrifice [ourselves], willingly and tenaciously; We lead our brave army, striving to wipe out Israel from existence; We are the army of the Saraya (squadrons, i.e. PIJ), the lions"). In the bottom right corner appears the caption: "labbayki ya al-Aqsa" ("we are here at your service, O al-Aqsa") (It appears the creator of the image has conflated the Dome of the Rock and Al-Aqsa). The text in the center suggests that the designer of the image was "al-Walid."
The image contains the PIJ (Military Media) logo at the top left, under which the name of the forum appears: "multaqayat `ushshaq al-hur" and a three word slogan: "iman, wa`y, thawra" ("faith, awareness, revolt"). On the right appear two armed fighters.
Group Type
Jihadist Group
Dominant Colors
Black, Red
Secondary Colors
Yellow , Green
Isolated Phrases / Mottoes / Slogans
Labbayki ya al-Aqsa
Groups Region of Operation
Middle East
Groups Country of Operation
Israel/Palestine
Weapons
Cold Weapons and Defensive Armor, Barbwire/ Chain Link Fence, Firearms, Automatic / Assault Rifle
Body Parts
Pointer Finger
Geopolitical Symbols
Symbol of party, movement or company, Slogan
Geopolitical Analysis
PIJ logo - Qur'anic verse 2:191 arched over a takbir and the Dome of the Rock sitting on two yellow fists with two crossed rifles jutting out in the back; a red map of Israel/Palestine down the middle; the phrase saraya al-quds is arched under the logo, completing the circle with the top arch; at the bottom in Arabic and English the phrase military media, indicating the media arm of the group.
People
Operative / Warrior (=mujahid), Man / Men
People Analysis
Armed PIJ fighters
Religious Textual References
Other Medieval Text
Religious Textual References Analysis
Prayer word, often used before reciting the Fatiha "labbayka," said to God or even the Prophet, in this image it is directed to the al-Aqsa (hence the use of the feminine labbayki).
Religious Symbols
Holy Site
Religious Symbols Analysis
Dome of the Rock
Topography
Man-made Structure / Landmark
Topography Analysis
Domed mosque.