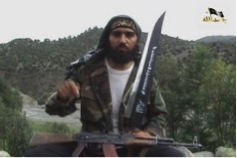 The image portrays an armed Jundallah fighter against a green, mountainous background.  In this frequently reproduced image, the fighter holds an AK-47 and a  large  machete or knife bearing a religious inscription (likely takbir).  The inclusion of the machete is likely to suggest intimidation and slaughter of the jihadists' enemies.    The image was posted in an article entitled جهاد و مجاهدان در قرآن ("jihad and mujahids in the Qur'an").
Group Name
Jundallah aka People's Resistance Movement of Iran (PRMI)
Group Type
Jihadist Group
Secondary Colors
Black, White
Language
Farsi and Arabic
Isolated Phrases / Mottoes / Slogans
1) shahada 2) takbir
Groups Region of Operation
Central Asia
Groups Country of Operation
Iran (Baluchistan)
Weapons
Cold Weapons and Defensive Armor, Sword / Crossed Swords, Firearms, Automatic / Assault Rifle, AK47
Geopolitical Symbols
Symbol of party, movement or company, Slogan
Geopolitical Analysis
Jundallah logo - gold representation of the word "jundallah" with a black banner bearing the shahada instead of the alif letter.
People
Operative / Warrior (=mujahid), Man / Men
People Analysis
Jundallah fighter
Religious Textual References
Shahada, Takbir, Use of Calligraphy
Religious Symbols
Black / White / Green Banners
Visual Themes
Images of mountains are a common motif in jihadi visual propaganda and may allude to regions with completed or ongoing operations, such as Afghanistan, Chechnya and Kashmir. More generally, however, mountains evoke divine omnipotence, eternity and grandeur.