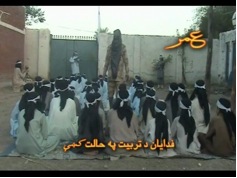 The image is from a TTP recruitment video aimed at children in Pakistan. The video, purportedly filmed by Omar Studio, shows children as young as seven years old receiving instructions in how and why to be a suicide bomber against infidels' presumably NATO forces in neighboring Afghanistan and other targets in Pakistan.  The caption at the bottom reads: "fedayan d tarbiyet pe halet kami" ("fida'i education…").
The video was filmed in August 2008 in Pakistan's Federally Administered Tribal Area (FATA) of Spinkai Ragzai, South Waziristan, an area under the control of then TTP leader, Baytullah Mahsud.
Group Name
Umar Studio - Tehrik-i Taliban Pakistan (TTP) media outlet
Group Type
Jihadist Group
Group Affiliation
AQ Affiliates / Associates
Isolated Phrases / Mottoes / Slogans
Fedayan
Groups Region of Operation
South Asia
Groups Country of Operation
Pakistan
Geopolitical Symbols
Symbol of party, movement or company, Slogan
Geopolitical Analysis
Umar studio (TTP media arm) logo- orange calligraphic representation of the word `Umar.
People
Operative / Warrior (=mujahid), Man / Men, Child
Religious Textual References
Use of Calligraphy
Topography
Man-made Structure / Landmark
Topography Analysis
Courtyard