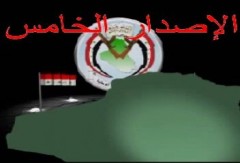 The image's caption reads: "al-isdar al-khamis" ("the fifth production/installment").
This image points to a video file featuring the bloody fight over Fallujah. Above the image in the post appears the caption: "al-qism al-i'lami li-harakat al-muqawama al-islamiyya hamas al-'iraq yuqaddim isdarahu al-khamis-malhamat Fallujah" ("Media department of the Islamic Resistance Movement Hamas-Iraq presents its fifth production-the fierce battle of Fallujah"). The image may imply ideological similarities between Hamas and the jihadi forces in Iraq, or operational cooperation between the two (Iraq's flag and the logo of Hamas in Iraq are in the background).
Group Name
Hamas - Iraq, media department
Group Type
nationalist, religious
Dominant Colors
Green, Black
Secondary Colors
Red, White
Isolated Phrases / Mottoes / Slogans
al-isdar al-khamis
Groups Region of Operation
Middle East
Groups Country of Operation
Iraq
Date Image Created Online
09/01/2010
Geopolitical Symbols
Country / Regional Map, Country Flag, Symbol of party, movement or company, Slogan
Geopolitical Analysis
Iraq. Hamas-Iraq logo - green map of Iraq at the center, two AKs acting as crossed masts for two Iraqi flags that flank and arch around the map; an open Qur'an at the top center, a white banner at the bottom.