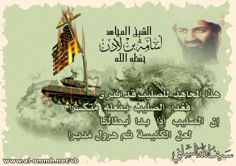 This image was uploaded onto a website by a user who described the picture, along with several others, as a "gift for a blessed 'Id [holiday]." The caption consists of Usama bin Ladin's name and a poem in his honor: "al-shaykh al-mujahid usama b. ladin, hafizahu Allah; hadha al-mujahid lil-salib qad inbara, fa-ghadan al-salib bi-fi'lihi mutakassir[a] (sic.); inna al-salib, idha bada abtaluna, la'ana al-kanisa thumma harwala mudabbir[a] (sic.)" ("the mujahid [fighter] shaykh Usama bin Ladin, may God protect him; this mujahid has opposed the crossed, and tomorrow, because of his action, the cross will be broken; indeed, when our heroes appear, the cross curses the church and then scurries away turning its heels"). At the bottom right, there is a signature with the name Sayf Allah al-Salafi.
The image features a burning American flag and a destroyed tank. The American flag, or parts thereof (such as the stars and stripes), are widely used in jihadi propaganda to evoke negative sentiments towards U.S. foreign policy and military campaigns. Here, by adding the cross, the image intentionally links the U.S. with Christianity and the medieval Crusades. This conjures up the historical memory of the Crusades, and frames the U.S. and its policies as a form of neo-Crusade, i.e., a renewed war instigated by the Christian West against the Muslim World.
Finally, the appearance of the global map refers both to perceived U.S. global domination and global resistance embodied in the global jihadi movement of the al-Qa'ida network.
Group Type
Jihadist Group
Secondary Colors
yellow, Red
Groups Region of Operation
Global
Weapons
Firearms, Non-Military Technology, Military Vehicle / Aircraft
Fire
Flames, Burning Object
Geopolitical Symbols
Country / Regional Map, Country Flag, Slogan
Geopolitical Analysis
Middle East and Eurasia. U.S. flag.
People
Group Leader / Influential figure, Operational Leader, Man / Men
People Analysis
Usama b. Ladin (AQC).
Religious Textual References
Other Medieval Text, Use of Calligraphy
Religious Textual References Analysis
Blessing/prayer for the living "hafizahu Allah" [may God keep him safe]