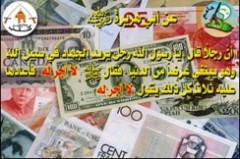 A significant amount of jihadi propaganda plays on popular sentiments in the Muslim world, such as the beliefs that the U.S. and other Western powers are only concerned with the Middle East because of its oil deposits, that Western society is greedy and materialistic and that Westerners are slaves to money. Jihadi propagandists use the motif of foreign currency as a means of capitalizing on these sentiments and emphasizing the purity of jihadist struggle.
The caption in the image is a quote from a hadith (prophetic tradition) on the authority of one of the Prophet's most esteemed companions, Abu Hurayra. It reads: "inna rajulan qala: ya rasul Allah, rajul yuridu al-jihad fi sabil Allah wahwa yabtaghi 'ardan" ("A man said: 'O Prophet, there's a man who wants to carry out jihad in God's path but he wants a worldly reward for it'; so the Prophet said: 'there is no reward [in the afterlife] for him.' So [the man] repeated that to the Prophet three times, and each time the Prophet said: 'there is no reward for him.'"). Overall, the image conveys the message that jihadist warriors cannot be bribed with money, unlike some Arab and Muslim leaders.
The logos of the JAMI (al-Jabha al-Islamiyya lil-Muqawama al-`Iraqiyya) aka Islamic Iraqi Resistance appear in the top corners.
Group Name
JAMI (al-Jabha al-Islamiyya lil-Muqawama al-`Iraqiyya) aka Islamic for the Iraqi Resistancemilitary wing: Kata'ib Salah al-Din al-Ayyubi
Group Type
nationalist, religious
Dominant Colors
Yellow, Red
Isolated Phrases / Mottoes / Slogans
Inna rajulan qala: ya rasul Allah, rajul yuridu al-jihad fi sabil Allah wahwa yabtaghi `ardan
Groups Region of Operation
Middle East
Groups Country of Operation
Iraq
Weapons
Cold Weapons and Defensive Armor, Barbwire/ Chain Link Fence
Geopolitical Symbols
Symbol of party, movement or company, Slogan, Currency
Geopolitical Analysis
Kata'ib Salah al-Din logo, two white curved, crossed swords flanking an orange mosque structure, and JAMI logo - green country map (Iraq), white flag with the text of takbir raised with a reddish-brown fist, Miscellaneous Western currencies
Religious Textual References
Hadith Text, Use of Calligraphy