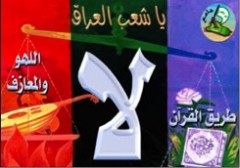 While the color red typically carries a sense of ambivalence in the Islamic tradition, in this image, the red clearly represents the infernal. There is also a subtle play on the tripart western flag, displaying red, white and blue. The word "la" ("no") constitutes the white, on a black background, and it is the base of a scale that measures the value of human deeds. On the positive, heavier side of the scale appears the phrase "path of the Qur'an," coupled with images of a Qur'an, a white rose and green leaves. Flowers in general represent vitality, as well as life and its incessant pace, and thus evoke notions of the afterlife, paradise and martyrdom in the context of jihadi imagery. The white rose enhances the notions of purity and the goal of martyrdom, as well as the idea of adhering to the straight path of Islam. This path metaphor is fleshed out literally in the words "path of the Qur'an." The positive side is also where the group (the Islamic Front for the Iraqi Resistance, or al-Jabha el-Islamiya lil-Moqawama al-Iraqiya) affixed its logo, in the top right corner. Above the white "no" in the center of the scale hails the green of the scale beam, which is topped off with a crescent. The green evokes God's benevolence and powers of creation, as well as the traditional color of the Prophet Muhammad. Against the infernal red, on the negative side, appear the words "al-lahw wal-ma'azif" ("entertainment and stringed instruments"), coupled with images of flames, a violin and an oud. In its entirety the slogan reads: "Ya sha'ba al-iraq, tariq al-qur'an, la al-lahw wal-ma'azif" ("O people of Iraq, [adhere to] the path of the Qur'an, not entertainment and musical instruments").
The image as a whole references the recurrent Qur'anic theme of weighing man's deeds, and the necessity for one's good deeds to be heavier and outweigh the bad on judgment day (Qur'an 7:8-9, 18:103-105, 21:47, 101:1-11). Furthermore, while positive elements are included, the overall message is that of exhortation, warning and fear.
Group Name
JAMI (al-Jabha al-Islamiyya lil-Muqawama al-`Iraqiyya) aka Islamic for the Iraqi Resistance; military wing: Kata'ib Salah al-Din al-Ayyubi
Group Type
nationalist, religious
Dominant Colors
Red, Black, White, Purple-blue
Secondary Colors
Yellow , Green
Isolated Phrases / Mottoes / Slogans
Ya sha`b al-iraq, tariq al-qur'an, la al-lahw wal-ma`azif.
Groups Region of Operation
Middle East
Groups Country of Operation
Iraq
Geopolitical Symbols
Symbol of party, movement or company, Slogan
Geopolitical Analysis
JAMI logo - green country map (Iraq), white flag with the text of takbir raised with a reddish-brown fist.
Religious Symbols
Crescent
Flora
Grass / Leaves / Branches Only