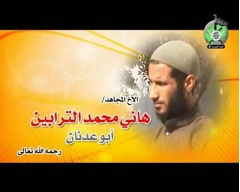 While participating in jihad gives a jihadist important religious credibility, death in battle provides immortality, as the deceased is ranked a martyr. It is believed that Muslim martyrs will be highly rewarded in the afterlife for their sacrifice and hold a special position in heavenly paradise. It is therefore not surprising that martyrdom is a central theme in jihadi visual propaganda.
This specific image is a funerary image to commemorate the deceased in the picture. Framed portraits are meant to remind the viewer of their own family pictures, suggesting the idea that the figures are everyday people carrying out a common duty suitable for any member of the community.  While framed martyr photos are found in a wide variety of propaganda material, they are most common as a visual motif in jihadi propaganda.
The caption contains the figure's name, title and a prayer phrase for the dead: "al-akh al-mujahid hani muhammad al-tarabin abu `adnan, rahimahu Allah ta`ala" [the brother, mujahid (fighter) Hani Muhammad al-Tarabin (aka) Abu `Adnan, may God have mercy on him]. At the top right is the JAA's logo: an AK with a black banner bearing the shahada (Islamic testimony of faith holding that there is no god but Allah and that Muhammad is his messenger), under two crossed swords and the seal of the Prophet Muhammad, all against the background of a green globe.
Group Name
Jund Ansar Allah
Group Type
Jihadist Group
Dominant Colors
Orange-yellow
Secondary Colors
Red, White, Green
Isolated Phrases / Mottoes / Slogans
Rahimahu Allah ta`ala
Groups Region of Operation
Middle East
Groups Country of Operation
Israel/Palestine
Geopolitical Symbols
Symbol of party, movement or company, Slogan
Geopolitical Analysis
Jund Ansar Allah logo - a green globe behind two crossed swords and an AK mast for a black banner bearing a white text of the shahada, the seal of the Prophet in front and the name of the group at the bottom in white against a black background.
People
Operative / Warrior (=mujahid), Man / Men
People Analysis
Deceased JAA member Hani Muhammad al-Tarabin (aka) Abu `Adnan.
Religious Textual References
Other Medieval Text, Use of Calligraphy
Religious Textual References Analysis
Blessing/prayer for the dead "rahimahu Allah ta`ala" [may God the exalted have mercy on him].
Flora
Grass / Leaves / Branches Only