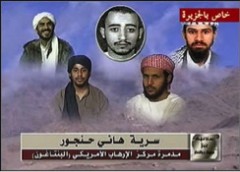 The image combines three classic Arab-Islamic motifs: white clouds, blue sky and a rocky desert landscape. The clouds are used to signal that the figures in the image attained martyrdom. Clouds are a sign of Allah's total inscrutability prior to creation. The cloud (sahab, pl. suhub) is the bearer of rain and therefore bounty (khayr, which is a synonym for rain), and is a sign of good things to come (a good date harvest, fresh grazing lands and fat animals). As such, the choice of al-Sahab for al-Qa'ida's media production outfit is perfect because it is a metaphor for the rain-bearing cloud and therefore a source of good tidings. The name also underscores the Arabian/Arab dominance of the movement. The color blue is a cold, fleeting and immaterial color. The sky and sea are blue, and anyone who plunges into them is lost to eternity. It is in this sense that blue conjures up hope and heavenly paradise, i.e., life after life. Finally, the rocky and sandy landscapes are important markers of Islam and Arab traditions. Used to evoke a sense of Arab-Islamic identity and the early history of Islam, they are commonly employed by Salafi groups as an evocation of the first generation of Muslims, and can serve as a reference to both that generation's success in jihad and the purity of its faith. Moreover, as sand may be used to substitute water in ritual ablution, it resonates the notion of purification, and thus speaks to the unsullied identity of the group depicted in the image.
The group represented in the image is identified as "sariyyat Hani Hanjur, mudammirat markaz al-irharb al-amriki (al-bentaghun)" ("Hani Hanjur cell, the destroyer of the American Terrorism Center (the Pentagon)"). Hani Hanjur and his cell were responsible for the hijacking of Flight #77 on 11 September 2001. The caption at the top right reads: "khass bil-jazira" ("exclusive on al-Jazira") indicating that this picture was taken from an al-Jazira report which broadcast part of the video. Framed portraits (see the figure in the upper middle row) are meant to remind the viewer of his or her own family pictures, suggesting that the pictured martyrs are everyday people carrying out a common duty suitable for any member of the community. While framed martyr photos are found in a wide variety of jihadi propaganda, they are most commonly used in Palestinian propaganda.
Group Type
Jihadist Group
Dominant Colors
Blue, White
Visual or Textual Reference to Significant Recent Events
Date EntryAnalysis Entry
Reference to Hani Hanjur and his cell who were responsible for hijacking flight #77 on 11 September 2001 and crashing into the Pentagon.
Isolated Phrases / Mottoes / Slogans
1) Khass bil-jazira 2) sariyyat Hani Hanjur, mudammirat markaz al-irharb al-amriki (al-bentaghun)
Groups Region of Operation
Global
Geopolitical Symbols
Slogan
People
Operational Leader, Operative / Warrior (=mujahid)
People Analysis
Hani hanjur, cell leader of the hijackers of flight #77, 9/11. Cell members.
Topography
Mountain, Desert Dunes