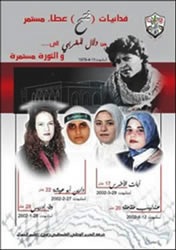 It is believed that Muslim martyrs will be highly rewarded in the afterlife for their sacrifice and that they hold a special position in heavenly paradise. It is therefore not surprising that martyrdom is a central theme in militant visual propaganda. Furthermore, women hold a powerful symbolic value in Islamic culture, as they are considered the bastion of their family's honor. Moreover, images of Muslim women in many cases are designed to evoke sympathy for victims of enemy violence, and to provoke men into responding against the perceived injustice by joining the ranks of a given group.
The caption at the top reads: "fida'iyyat fatah 'ata' mustamirr; min dalal al-maghribi ila…wal-thawra mustamirra" ("female fedayeen [shock troops willing to die] are a continuous gift from Dalal al-Maghribi to…and the revolution continues"). The five women in the image are being hailed as the first women to carry out suicide attacks against Israeli targets. The four in the center of the image carried out attacks in and around Jerusalem during 2002. From left to right, they are: Wafa' Idris, who died 28 January 2002; Darin Abu 'Isha, who died 27 February 2002; Ayat al-Akhras, who died 29 March 2002; and 'Andalib Taqataq, who died 12 April 2002. The Fatah logo is visible in the top right corner of the image.
Group Name
Fatah (Harakat Tahrir Filastin aka Harakat al-Tahrir al-Watani al-Filastini)
Group Affiliation
Political / Missionary / Charity / Cyber-Media organizations (not overtly involved in the initiation of real world attacks)
Visual or Textual Reference to Significant Recent Events
Date EntryAnalysis Entry
Visual and textual reference to attacks carried out in Jerusalem in 2002 by Fatah-AMB operatives: Wafa' Idris, 1/28, Darin Abu `Isha, 2/27, Ayat al-Akhras 3/29 and `Andalib Taqataq 4/12. Also attack carried out by Dalal al-Maghribi 4/11/1978.
Isolated Phrases / Mottoes / Slogans
"Fida'iyyat fatah `ata' mustamirr; min dalal al-maghribi ila ... wal-thawra mustamirra"
Groups Region of Operation
Middle East
Groups Country of Operation
Israel/Palestine
Geopolitical Symbols
Symbol of party, movement or company, Slogan
Geopolitical Analysis
Fatah logo - green map of Israel/Palestine, two crossed weapons held by two fists coming out of two Palestinian flags.
People
Operative / Warrior (=mujahid), Woman / Women
People Analysis
Fatah operatives Dalal al-Maghribi, Wafa' Idris, Darin Abu `Isha, Ayat al-Akhras and `Andalib Taqataqa
Religious Symbols
Holy Site, Black / White / Green Banners
Religious Symbols Analysis
Al-Aqsa mosque