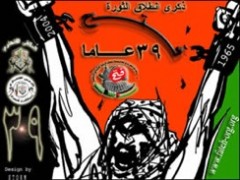 The image, created by Fatah, is a celebration of "dhikra intilaq al-thawra 39 'aman" ("the 39th anniversary of the outbreak of the revolution (1965-2004)"). The black, red and green of the background constitute the Palestinian flag, divided by the outstretched arms of the figure depicted as breaking out from shackles, thereby symbolizing the aspiration to end the Israeli occupation of Palestinian lands. The fact that the figure is depicted wearing a kafiyya (traditional head gear) is not a coincidence, as the kafiyya has become one of the symbols of the Palestinian cultural/national identity. Indeed, Yaser Arafat, the founder of the Fatah, wore the kafiyya in all of his public appearances.
Group Name
Fatah (Harakat Tahrir Filastin aka Harakat al-Tahrir al-Watani al-Filastini)- Kata'ib shuhada' al-aqsa (aka al-Aqsa Martyrs Brigade)
Secondary Colors
Black, Green, White
Visual or Textual Reference to Significant Recent Events
Date EntryAnalysis Entry
39th anniversary of Fatah.
Isolated Phrases / Mottoes / Slogans
Dhikra intilaq al-thawra 39 `aman
Groups Region of Operation
Middle East
Groups Country of Operation
Israel/ Palestine
Weapons
Cold Weapons and Defensive Armor, Barbwire/ Chain Link Fence
Weapon Analysis
Shackles.
Geopolitical Symbols
Country Flag, Symbol of party, movement or company, Slogan
Geopolitical Analysis
Palestine. Fatah logos - Palestinian flag (too small to differentiate detail)