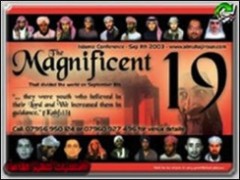 It is believed that Muslim martyrs will be highly rewarded in the afterlife for their sacrifice and that they hold a special position in heavenly paradise. It is therefore not surprising that martyrdom is a central theme in jihadi visual propaganda. Perhaps the most widely used group of martyrs is those who were involved with the 11 September 2001 attacks (referred to here as "The Magnificent 19"). Depictions of this group advertise the success of jihadi activism in general, and emphasize the religious rationalization of the attack for all potential audiences. The appearance of Usama bin Ladin serves to remind the viewer of the figures' organizational affiliation and further lend them an aura of legitimacy.
Group Type
Jihadist Group
Group Affiliation
AQ Core / Central
Dominant Colors
Red-Orange
Visual or Textual Reference to Significant Recent Events
Date EntryAnalysis Entry
Visual and textual reference to the events of September 11, 2001; Twin Towers site.
Isolated Phrases / Mottoes / Slogans
The Magnificent 19
Groups Region of Operation
Global
Fire
Flames, Burning Object, Smoke
FIre Analysis
Twin Towers
Geopolitical Symbols
Slogan
People
Group Leader / Influential figure, Operational Leader, Operative / Warrior (=mujahid), Man / Men
People Analysis
Usama b. Ladin. 19 AQ operatives involved in 9/11
Religious Textual References
Quranic Text, Quranic Citations
Topography
Man-made Structure / Landmark
Topography Analysis
Twin towers and NYC skyline.