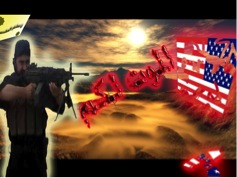 The image portrays Abu Mus'ab al-Zarqawi, the former head of al-Qa`ida in Iraq, shooting the American flag, cutting out the caption: "al-mawt lakum" ("death to you [pl.]"). The halo around the figure's body, along with the other visual elements in the image, remind the viewer of the importance of martyrdom through the death of Zarqawi himself.
The American flag, or parts thereof (such as the stars and stripes), are widely used in jihadi propaganda to evoke negative sentiments towards U.S. foreign policy and military campaigns. The stars and stripes are also used to color other symbols in an image, thereby linking the symbols to U.S. foreign policy, politics and military intervention in the Muslim world.
Group Type
Jihadist Group
Group Affiliation
AQ Affiliates / Associates
Dominant Colors
Red, Yellow
Secondary Colors
White , Blue
Isolated Phrases / Mottoes / Slogans
Al-mawt lakum
Groups Region of Operation
Middle East
Groups Country of Operation
Iraq
Weapons
Firearms, Sub / Machine Gun, Ammo Belt / Vest
Air
Celestial Bodies, Clouds / Fog, Sky
Geopolitical Symbols
Country Flag, Slogan
Geopolitical Analysis
U.S. flag
People
Group Leader / Influential figure, Operational Leader, Operative / Warrior (=mujahid)
People Analysis
Abu Mus`ab al-Zarqawi (AQI/JTJ)
Visual Themes
Images of mountains are also a common motif in jihadi visual propaganda and may allude to regions with completed or ongoing operations, such as Afghanistan, Chechnya and Kashmir. More generally, however, like in this image, mountains intend to evoke divine omnipotence, eternity and grandeur.