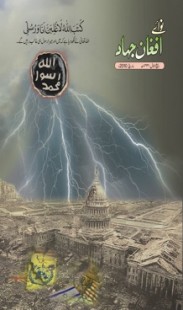 The image is the cover of the March 2010 issue of the magazine Nawa-i-Afghan Jihad. The appearance of lightning and a storm may be associated with divine creative energy and fecundity, or the foretelling of divine anger and punishment. The latter is a particularly likely interpretation when viewed in combination with other elements in the image expressing the demise of Western symbols of power. Notably, the lightning in the image is portrayed as emanating from the seal of the Prophet Muhammad (the black circle with the words "muhammad rasul Allah" ("Muhammad the messenger of God").
The American flag, or parts thereof (such as the stars and stripes), are widely used in jihadi propaganda to evoke negative sentiments towards U.S. foreign policy and military campaigns. In a similar manner, the Israeli, British and UN flags, as well as the U.S. capitol building and its surroundings, are all incorporated in the image to express a perceived alignment between those forces and their destruction in the future. The Arabic caption is a Qur'anic quote (Q 58: 21): "kataba Allah la-aghlibanna ana wa-rusuli" ("God decreed: I shall vanquish, my messengers and I"). The Urdu caption underneath is a translation of the verse.
Group Name
Nawa-i-Afghan Jihad [Voice of Afghan Jihad]
Group Type
Jihadist Group
Dominant Colors
Gray, Blue
Secondary Colors
Yellow, Black, Red, White
Isolated Phrases / Mottoes / Slogans
1) (Q 58: 21) "kataba Allah la-aghlibanna ana wa-rusuli" 2) Muhammad rasul Allah
Groups Region of Operation
South Asia
Groups Country of Operation
Afghanistan & Pakistan
Air
Storm / Wind, Lightning, Clouds / Fog, Sky
FIre Analysis
Small ring of flames surrounding the Prophet's seal
Geopolitical Symbols
Country Flag, Non-country Flag, Slogan
Geopolitical Analysis
U.S., U.K., Israel, U.N.
Religious Textual References
Quranic Text, Quranic Citations, Text manipulation, Use of Calligraphy
Religious Textual References Analysis
58:21. The verse has a specific historical context as presented in the "asbab al-nuzul" [reasons of revelation], which the decontextualization ignores; the creator of the image focuses on the violent meaning of the Qur'anic phrase "la-aghlibanna" [I shall overcome], which is not the preferred interpretation of medieval scholars.
Religious Symbols
Seal of the Prophet
Topography
Man-made Structure / Landmark
Topography Analysis
Crumbling U.S. capitol buildings