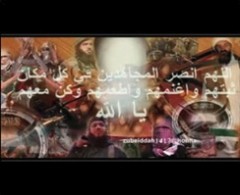 The dominant element in this image is the short prayer, which reads: "allahumma, insir al-mujahidin fi kull makan, thabbithum wa-aghnimum wa-at'imhum wa-kun ma'ahum, ya Allah" ("O God, render the mujahidin [fighters] everywhere victorious, strengthen their resolve, give them the spoils of war, and be with them, O God"). The designer of the image put together a number of pictures from different jihadi theaters, including pictures of deceased Chechen leader al-Khattab and Usama bin Ladin, as well as unidentified masked figures. While participating in jihad imbues an individual with important religious credibility, death in battle provides immortality, as the deceased is ranked a martyr. This is particularly true for widely recognized jihadi leaders. With martyrdom, their personalities are elevated to the status of mythical heroes, on par with famous historical warriors and the martyrs of Islamic tradition. Indeed, their martyrdom not only further legitimizes their cause and their actions, but in many cases, the individuals become motifs in their movement's visual propaganda.
Group Name
Jihadi media; Run by an individual - Zubeiddah1417 aka Usama Abdallah Kassir extradited to the U.S. 9/25/2007
Group Type
Jihadist Group
Secondary Colors
Orange, Brown, Black
Isolated Phrases / Mottoes / Slogans
Allahumma, insir al-mujahidin fi kull makan, thabbithum wa-aghnimum wa-at`imhum wa-kun ma`ahum, ya Allah
Groups Region of Operation
Europe
Groups Country of Operation
Sweden
Weapons
Firearms, Automatic / Assault Rifle, AK47, Rockets, RPG
Geopolitical Symbols
Symbol of party, movement or company, Slogan
Geopolitical Analysis
Islamic Media Center logo - an open Qur'an centered on crossed rifle and sword and encircled in black background, shahada on top and Qur'anic quote on the bottom (9:5)
People
Group Leader / Influential figure, Operational Leader, Operative / Warrior (=mujahid), Man / Men
People Analysis
Usama b. Ladin, Amir Khattab
Religious Textual References
Text manipulation
Religious Textual References Analysis
Textual reference to Q 8:41, 69-75, devoid of the historical context of the Qur'anic text.
Religious Symbols
Black / White / Green Banners