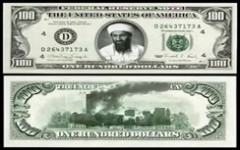 A significant amount of jihadi propaganda plays on popular sentiments in the Muslim world, such as the beliefs that the U.S. and other Western powers are only concerned with the Middle East because of its oil deposits, that Western society is greedy and materialistic and that Westerners are slaves to money. Jihadi propagandists use the motif of foreign currency as a means of capitalizing on these sentiments. Foreign currency, especially the U.S. dollar, is also perceived as a symbol of Western power and dominance. Its reconfiguration allows jihadi groups to associate themselves with the same perceptions of power and dominance. In this image, the picture of Benjamin Franklin on the U.S. $100 bill is replaced with that of Usama bin Ladin. On the back, Independence Hall has been replaced with an image of the Twin Towers after the 9/11 attacks. Thus, Usama bin Ladin and al-Qa'ida are depicted as possessing enough power to challenge the United States, or possessing the capability to turn American power against itself.
Visual or Textual Reference to Significant Recent Events
Date EntryAnalysis Entry
Visual reference to events of September 11, 2001
Fire
Burning Object, Smoke
FIre Analysis
NYC Twin Towers
Geopolitical Symbols
Currency
Geopolitical Analysis
U.S. 100 dollar bill with Usama b. Ladin's face replacing that of Benjamin Franklin.
People
Group Leader / Influential figure, Operational Leader, Operative / Warrior (=mujahid), Man / Men
People Analysis
Usama b. Ladin
Topography
Man-made Structure / Landmark
Topography Analysis
Twin towers and NYC skyline