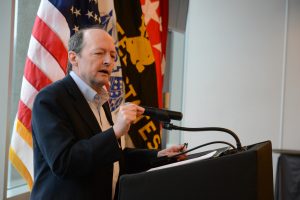 It is with a heavy heart that the CTC reports that Ambassador Michael Sheehan, CTC's former Distinguished Chair, passed away on Monday, July 30, 2018. Amb. Sheehan's impact on the counterterrorism field and the growth and development of the CTC has been nothing short of profound.
After graduating from the United States Military Academy in 1977, and following a distinguished career serving as a Special Forces officer in the U.S. Army, Amb. Sheehan shaped U.S. and international dimensions of counterterrorism while serving in a variety of critical roles.
These roles included Ambassador-at-Large for Counterterrorism at the U.S. State Department; U.N. Assistant Secretary-General, Department of Peacekeeping Operations; Deputy Commissioner for Counterterrorism at NYPD; Assistant Secretary of Defense for Special Operations/Low-Intensity Conflict; and CTC Distinguished Chair.
While at the CTC, Amb. Sheehan took great pride in working with cadets–and his efforts on that front were tireless. One of his most important contributions was the creation of CTC's Irregular Warfare Group, a group designed to expose cadets to irregular warfare through classroom and field experiences.
We will miss Amb. Sheehan greatly. He was a true soldier, scholar, author, ambassador, and all-around CT leader.
The thoughts of the CTC are with Amb. Sheehan's family at this time.