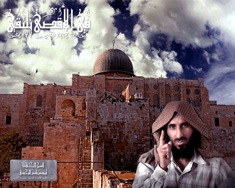 The image portrays the leader of AQAP Abu Basir Nasir al-Wuhayshi at the bottom of the wall of the Old City in Jerusalem with the dome of the al-Aqsa mosque in the background. The caption in the top left corner reads: "fi al-aqsa naltaqi" ("we shall meet at al-Aqsa").  The al-Aqsa mosque is recognized and revered by all Muslims, but it is mostly a powerful symbol of Palestinian nationhood. In the bottom left corner appears the figure's name, title and group affiliation "al-shaykh al-mujahid Abu Basir Nasir al-Wuhayshi, amir  Tanzim Qa`idat al-Jihad fi Jazirat al-`Arab" ("the mujahid (fighter) shaykh Abu Basir Nasir al-Wuhayshi, commander of AQAP"). Abu Basir is seen in the image pointing his finger upwards, a gesture used sometimes to reprimand (as in Western cultures) or when articulating the shahada (Islamic testimony of faith holding that there is no god but Allah and that Muhammad is his messenger).
Group Type
Jihadist Group
Group Affiliation
AQ Affiliates / Associates
Dominant Colors
Orange , White
Isolated Phrases / Mottoes / Slogans
Fi al-aqsa naltaqi
Groups Region of Operation
Middle East, Global
Groups Country of Operation
Yemen, Saudi Arabia
Body Parts
Pointer Finger, Face / Bust
Geopolitical Symbols
Slogan
People
Group Leader / Influential figure, Operational Leader, Man / Men
People Analysis
Leader of AQAP Abu Basir Nasir al-Wuhayshi. Leader of AQAP Abu Basir Nasir al-Wuhayshi.
Religious Textual References
Use of Calligraphy
Religious Symbols
Holy Site
Religious Symbols Analysis
Al-Aqsa mosque
Fauna
Dove / Default Bird
Topography
Man-made Structure / Landmark
Topography Analysis
Domed mosque
Visual Themes
The white clouds in the image evoke Allah's total inscrutability prior to creation and as the bearer of rain. It is considered a symbol of "khayr" [bounty/good] ("khayr" is a synonym for rain) and a sign of good things to come.