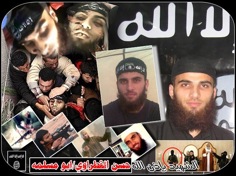 While participating in jihad gives a jihadist important religious credibility, death in battle provides immortality, as the deceased is ranked a martyr. It is believed that Muslim martyrs will be highly rewarded in the afterlife for their sacrifice and hold a special position in heavenly paradise. It is therefore not surprising that martyrdom is a central theme in jihadi visual propaganda.
The specific image portrays several snapshots of Abu Maslama Hasan al-Qatrawi who was a member of the Saraya al-Quds arm of the Palestinain Islamic Jihad (PIJ) and was reportedly a student of the shaykh Abu al-Nur al-Maqdisi (seen in the bottom right), deceased leader of Jund Ansar Allah and a member of JAA (may indicate membership crossover between PIJ and JAA).
Al-Qatrawi was killed on January 10, 2010.  According to Muslim law, any person who died in defense of his faith is entitled to a Muslim burial without the customary ablution or purification process, or the change of clothing, which is necessary in the case of corpses of those who did not earn the rank of martyr (shahid). In other words, the rank of martyrdom  renders a corpse legally pure. For this reason, it fairly common for photos of bloody faces to appear in various jihadi media releases, as well as in posts on forums, as the images serve as evidence that the deceased attained the desired rank of shahid. The idea that God must weigh the evidence before "officially" granting someone the rank of martyrdom is further expressed in the traditional phrase at the bottom "al-shahid bi-idhni Allah" ("the martyr, with God's permission").
The larger picture on the left is from al-Qatrawi's funeral procession where he is being accompanied on what is considered his last journey. The fate of the deceased in the picture at the top immediately to the left of the black banner looks like a photo that intends to demonstrate the popular conception of "ibtisamat al-shahid" ("a martyr's smile"). The martyr's smile continues to be the subject of many jihadi forum posts as it is believed to reflect what the deceased sees upon his ascension to heaven – his place in heaven and his wives from the virgins of paradise (Ar. hur al-`ayn).
Group Name
Jund Ansar Allah (JAA) and Palestinian Islamic Jihad (PIJ)
Group Type
Jihadist Group
Group Affiliation
Local Jihad (Independent entities with limited or no ties to international / external movements)
Secondary Colors
White, Red
Visual or Textual Reference to Significant Recent Events
Date EntryAnalysis Entry
Visual and textual reference to JAA/PIJ member Abu Maslama's death 1/10/2010
Isolated Phrases / Mottoes / Slogans
Shahada al-shahid bi-idhni Allah
Groups Region of Operation
Middle East
Groups Country of Operation
Israel/Palestine
Weapons
Firearms, Automatic / Assault Rifle, Rockets, RPG, Non-Military Technology
Body Parts
Blood, Face / Bust
Geopolitical Symbols
Symbol of party, movement or company, Slogan
Geopolitical Analysis
AQ syndicates logo (AQI-ISI /AQAP) - black banner with seal of the Prophet/shahada
People
Group Leader / Influential figure, Spiritual Leader / Idealogue, Operative / Warrior (=mujahid), Man / Men
People Analysis
JAA leader Abu al-Nur al-Maqdisi. Abu Maslama Hasan al-Qatrawi (JAA/PIJ).
Religious Textual References
Shahada, Other Medieval Text
Religious Textual References Analysis
La ila illa Allah, Muhammad rasul Allah (including the seal of the Prophet). Prayer phrase "al-shahid bi-idhni Allah" [the shahid with God's permission].
Religious Symbols
Black / White / Green Banners, Seal of the Prophet