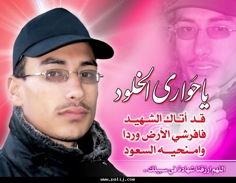 While participating in jihad gives a jihadist important religious credibility, death in battle provides immortality, as the deceased is ranked a martyr. It is believed that Muslim martyrs will be highly rewarded in the afterlife for their sacrifice and hold a special position in heavenly paradise. It is therefore not surprising that martyrdom is a central theme in jihadi visual propaganda. The figure in this specific image is a Palestinian Islamic Jihad mujahid (fighter) by the name of Muhammad al-Fiqqi. Al-Fiqqi was killed on 28 April 2010 in a confrontation with members of the Israeli Defense Forces.
An important element in the image is the caption on the right, which is the first line of a popular nashid (song) extolling martyrdom. It reads: "ya hawari (sic.) al-khulud, qad ataki al-shahid, fa-frushi al-ard wardan wa-mnahihi al-su'ud" ("O Houris [nymphs of paradise] of eternity, the martyr has come to you, so cover the ground with roses, and give him happiness"). At the bottom in smaller print appears the slogan: "allahumma, urzuqna shahada fi sabilika" ("O God, grant us martyrdom in your path/for your sake").
Group Name
Palestinian islamic Jihad (PIJ) aka al-Jihad al-Islami fi Filastin - Saraya al-Quds [al-Quds squadrons] aka Shqaqi faction
Group Type
Jihadist Group
Group Affiliation
Local Jihad (Independent entities with limited or no ties to international / external movements)
Dominant Colors
Pink, Red
Isolated Phrases / Mottoes / Slogans
1) Ya hawari (sic.) al-khulud, qad ataki al-shahid, fa-frushi al-ard wardan wa-mnahihi al-su`ud 2) Allahumma, urzuqna shahada fi sabilika
Groups Region of Operation
Middle East
Groups Country of Operation
Israel/Palestine
Geopolitical Symbols
Slogan
People
Operative / Warrior (=mujahid), Man / Men
People Analysis
Muhammad al-Fiqqi (PIJ)
Visual Themes
The light rays surrounding the head of the figure in the image are a common jihadi visual motif expressing visually the sentiment captured by the text, namely, the figure's achievement of martyrdom and death in the state of purity.