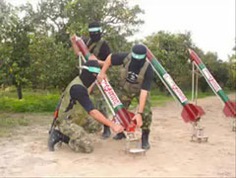 The image is a picture uploaded in the anashid (a capella songs) section of the Muslim Brotherhood's website. The name of the relevant album is "hajamu, hajamu al-Muslimin" ("attack, attack [O] Muslims"), and the combination of the different motifs in the image evokes notions of militant activism and a call to join the jihadi struggle.  The fighters are wearing the green headbands commonly worn by members of Hamas, or its affiliate, 'Izz al-Din al-Qassam Brigades.  The group has frequently shot rockets into Israel.
Group Type
nationalist, religious
Group Affiliation
Local Jihad (Independent entities with limited or no ties to international / external movements)
Secondary Colors
Black, Red
Isolated Phrases / Mottoes / Slogans
Shahada
Groups Region of Operation
Middle East
Groups Country of Operation
Egypt
Date Image Created Online
17/05/2010
Weapons
Firearms, Automatic / Assault Rifle, AK47, Ammo Belt / Vest, Rockets, Missile
Geopolitical Symbols
Country Flag, Symbol of party, movement or company, Slogan
Geopolitical Analysis
Palestine. Hamas logo - Dome of the Rock flanked by two Palestinian flags, a green map of Palestine at the top, two crossed swords at the bottom, green banner at the bottom bears full name of the group of which Hamas is the acronym.
People
Operative / Warrior (=mujahid), Man / Men
Religious Textual References
Shahada
Religious Textual References Analysis
la ila illa Allah, Muhammad rasul Allah
Flora
Trees / Shrubs, Grass / Leaves / Branches Only