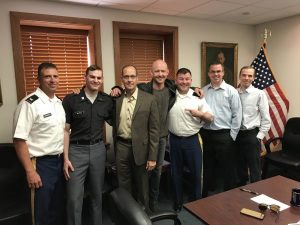 On 12 May, the Combating Terrorism Center was pleased to welcome Isaac Slade, lead singer of the group The Fray, and Jim Yacone, Class of 1987 graduate and former FBI Assistant Director, for a briefing. Following his meeting with the CTC, Slade headed to the Firstie Club where he performed for a packed audience of cadets.

Isaac Slade (center), lead singer of The Fray, and Jim Yacone (center left), former FBI Assistant Director and a 1987 West Point graduate, are pictured after their briefing by the CTC.

Isaac Slade of The Fray also performed at the Firstie Club for cadets.