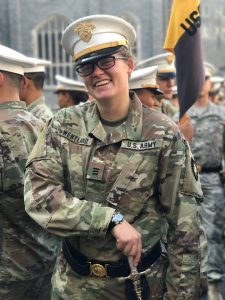 Meet Cadet Hannah Wentland, the CTC Cadet of the Month for April 2019. Hailing from Meridian, Idaho, Hannah is the daughter of David and Shirley Wentland. At the United States Military Academy, Hannah is an English major and a Terrorism Studies minor. She is a proud four-year member of the Crew team, rowing as a starboard. She served as the Crew Team S2 her junior year, and Rations Officer her senior year. Beyond rowing boats, Hannah is a small group leader in OCF, a member of Cadets 4 Kids, and currently serves as a Battalion XO. In her free time, she enjoys playing basketball, rollerblading, reading, and painting.
Since joining the minor, Hannah has been honored to represent the department in trips to London; Washington, D.C.; the FDNY; and the Netherlands. Last summer, she participated in the Vierdaagse (Four Days March) in Nijmegen, where she was a member of a small international contingent team. Marching 100 miles in four days, Hannah observed firsthand the importance of international operations and foreign team building—a critical element of counterterrorism.
After graduating from the United States Military Academy, Hannah will commission as an Armor Officer. Her first duty station will be at Fort Stewart, Georgia, with the 1st Armored Brigade Combat Team. She looks forward to leading her first platoon and utilizing what she has learned from the CTC to create effective teams and promote national security.