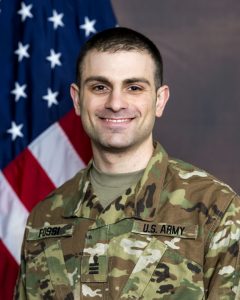 Meet CDT Derek Fossi, the CTC Cadet of the Month for February. At West Point, CDT Fossi is an Arabic major and a Terrorism Studies minor. In his free time, he enjoys long ruck marches with his Sandhurst team and playing classical piano with the Department of Foreign Languages' Piano/Voice Mentorship Program.
With the CTC, CDT Fossi helped to research a project on the effects of the U.S. State Department's Foreign Terrorist Organization designation on terror groups. He also was a member of USMA's award-winning team that competed in an international competition sponsored by the U.S. State Department and Facebook to create a social media campaign to counter the narrative of the Islamic State. The team was invited to brief officials at the White House and at the U.S. State Department, and the project was featured in The Washington Post. The CTC also gave CDT Fossi the opportunity to spend a summer with the FBI's Joint Terrorism Task Force in Kansas City, Missouri, where he learned about and participated in multi-agency efforts against terrorism.
CDT Fossi plans to commission in May as an Ordnance officer. After completing Ordnance Basic Officer Leadership Course, he hopes to continue to Explosive Ordnance Disposal (EOD) School and become an EOD officer.