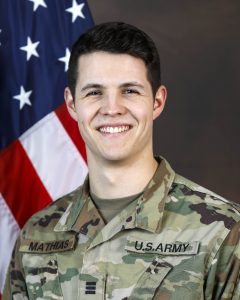 Meet Cadet Chance Mathias, the CTC Cadet of the Month for February 2019. Chance claims Fayetteville, North Carolina, as his home, and is the son of Steve and Pam Mathias. After graduating high school, Chance attended Marion Military Institute, a college in Marion, Alabama. At West Point, Chance's major is Arabic and his minor is Terrorism Studies. Aside from academics, Chance served as the Executive Officer of company B4, is currently on B4's Sandhurst team, and is a member of Baptist Collegiate Ministry.
Since joining the Terrorism Studies Minor, Chance has had the opportunity to intern with the FBI's Joint Terrorism Task Force, participate in a long-range terrorism studies class in Jordan, and apply current research to his Capstone project. During his internship, Chance was able to work on an international terrorism case that transcended national boundaries, working alongside the Department of Justice and the U.S. Attorney's Office to effectively employ efforts of the intelligence and law enforcement communities.
Chance plans to serve as an Aviation Officer in the United States Army and to draw from his operational experiences to lead in future intelligence and international security communities throughout his career. In the future, Chance also aims to serve in a missionary capacity, applying his expertise to the field.