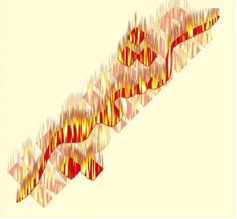 The image is comprised of the word "Kashmir," written in Arabic and English, engulfed in flames. Dripping blood also appears beneath the word. The image highlights Kashmir as an ongoing theater for jihad, echoing the notion of religious and moral obligation to join the struggle there. The yellow and red of the flames invoke the pain of separation and a longing to be united with God, that is, the longing for death and achievement of martyrdom. The fiery red resonates blood, passion, impulse and danger. It is also fundamentally linked to the vital force, and to warlike qualities.
The idea is put into words elsewhere on the group's website. This particular page is noted to be "Coming Soon Insha Allah" (sic.) – "in sha'a Allah" ("God willing").
Group Name
Harakat al-Mujahidin (HuM)
Group Type
Jihadist Group
Group Affiliation
Local Jihad (Independent entities with limited or no ties to international / external movements)
Language
Arabic and English
Isolated Phrases / Mottoes / Slogans
Kashmir
Groups Region of Operation
South Asia
Groups Country of Operation
Jammu and Kashmir (based in Paksitan)
Fire
Flames, Burning Object
FIre Analysis
The word "Kashmir"
Geopolitical Symbols
Slogan