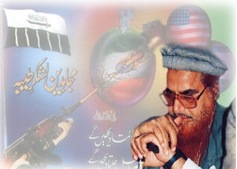 The image contains a picture of the Lashkar-e Taiba (LeT) leader and founder, Hafiz Muhammad Sa'id (also known as Saeed). In the top left corner appears the LeT logo, a white banner with black and white stripes under the text of the shahada (Islamic testimony of faith holding that there is no god but Allah and that Muhammad is his messenger) and a sword.
Under the banner, in Urdu, appear the words: "mujahidin lashkar tayyiba" ("mujahidin [fighters] of LeT [army of the pure]"). At the bottom left, an AK47 is firing at a sphere bearing the Indian flag, and hitting a second sphere aligned behind it bearing the U.S. flag. A third sphere, hiding behind the American, bears the thin blue stripes of the Israeli flag. This image is a reference to a (circa) 2003 communiqué written by Saeed in which he urged his followers to "fight against the evil trio: America, Israel, and India."
In addition to the picture of Saeed and the LeT flag, the image incorporates a number of motifs familiar in jihadi imagery. First is the American flag, which is frequently used in jihadi propaganda to evoke unpopular sentiments surrounding U.S. foreign policy and military campaigns. Here, the fact that the U.S. flag appears between the Israeli and Indian flags is a political protest against the close cooperation between the U.S., Israel and India, and an expression of oft-repeated sentiments and conspiracy theories regarding Jewish world domination. It is also notable that the U.S., Israel and India are each represented as a sphere, as globes are often used in jihadi propaganda to globalize localized issues and conflicts, as well as to articulate the global aims/nature of the jihadi struggle and/or particular groups. The global nature of LeT's struggle is further emphasized by the AK47 shooting at the spheres, which symbolizes the global reach of LeT.
Group Name
Lashkar-e Taiba/ Jama`at al-Da`wa Pakistan
Group Affiliation
Local Jihad (Independent entities with limited or no ties to international / external movements)
Dominant Colors
Orange-Red, Blue
Secondary Colors
White, Black, Green
Isolated Phrases / Mottoes / Slogans
Mujahidin lashkar tayyiba
Groups Region of Operation
South Asia
Groups Country of Operation
Pakistan
Date Image Created Online
30/06/2010
Weapons
Firearms, Automatic / Assault Rifle, AK47
Air
Celestial Bodies, Clouds / Fog, Sky
Geopolitical Symbols
Globe, Country Flag, Non-country Flag, Symbol of party, movement or company, Slogan
Geopolitical Analysis
U.S., India and Israel. LeT group flag. LeT logo - white banner, black and white stripes at the bottom, calligraphic representation of the shahada over a sword on top
People
Group Leader / Influential figure, Spiritual Leader / Idealogue, Man / Men
People Analysis
Hafiz Sa`id, LeT leader
Religious Textual References
Shahada, Use of Calligraphy
Religious Textual References Analysis
La ila illa Allah, Muhammad rasul Allah
Religious Symbols
Black / White / Green Banners
Religious Symbols Analysis
White