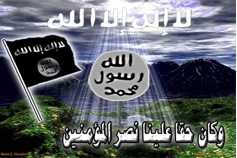 Images of mountains are a common motif in jihadi visual propaganda and may allude to regions with completed or ongoing operations, such as Afghanistan, Chechnya and Kashmir. More generally, however, mountains evoke divine omnipotence, eternity and grandeur.
According to hadith, the black flag was the battle flag of the Prophet Muhammad and it was carried into battle by many of his companions. The image of the black flag, usually bearing the shahada (Islamic testimony of faith holding that there is no god but Allah and that Muhammad is his messenger), has been used as a symbol of religious revolt and engagement in battle (i.e., jihad). In the contemporary Islamist movement, the black flag is used to evoke notions of jihad and of reestablishing the Islamic Caliphate.
Although not shown here, this image initially appeared with the words: "ud'u li-ikhwanikum al-mujahidin fi mu'assasat al-malahim lil-intaj al-i'lami, al-masdar: markaz al-fajr lil-i'lam" ("pray for your mujahid [fighting] brethren at al-Malahim Media Production Foundation; source: al-Fajr Media Center"). The caption in the image is a partial quote from a Qur'anic verse (Q 30:47), which reads: "wa-kana haqqan 'alayna nasr al-mu'minin" ("it is our duty to assist/render the believers victorious").
Group Name
Markaz al-Fajr lil-i`lam (AQ)
Dominant Colors
Blue, Green
Secondary Colors
Black, White
Isolated Phrases / Mottoes / Slogans
1) shahada 2) Q 30:47 wa-kana haqqan `alayna nasr al-mu'minin
Groups Region of Operation
Global
Date Image Created Online
17/04/2010
Date Image Created Online Details
Image posted on al-Saha forum 4/17/2010 by a user called "sabil al-mujahidin"
Geopolitical Symbols
Symbol of party, movement or company, Slogan
Geopolitical Analysis
AQI/ISI/AQAP logo - black flag bearing shahada that includes the seal of the Prophet
Religious Textual References
Quranic Text, Quranic Citations, Text manipulation, Shahada
Religious Textual References Analysis
30:47. The caption is a partial quote; the speaker in the Qur'anic text is God to his Prophet, so it is God stating that he reserves the right to assist the believers. This is quite different from the implication of the partial quote in this propaganda image. La ila illa Allah, Muhammad rasul Allah (including the seal of the Prophet).
Religious Symbols
Black / White / Green Banners, Seal of the Prophet
Religious Symbols Analysis
Prophet's seal
Flora
Trees / Shrubs, Grass / Leaves / Branches Only
Topography
Valley / Meadow, Mountain, Horizon