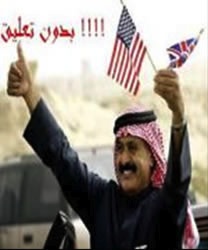 The American and British flags are also widely used in jihadi propaganda, in particular to evoke negative sentiments surrounding Western foreign policy and military campaigns. This image draws on a widely circulated photo of a Kuwaiti citizen who was photographed holding  both American and British flags and giving the "thumbs up" sign after the invasion of Iraq in 2003. The caption reads: "bi-dun ta'liq!!!!" ("Without commentary!!!!" or perhaps more colloquially "No Comment").
Dominant Colors
Red, Blue
Isolated Phrases / Mottoes / Slogans
Bi-dun ta`liq
Geopolitical Symbols
Country Flag
Geopolitical Analysis
U.S.
People
Political Leader, Man / Men