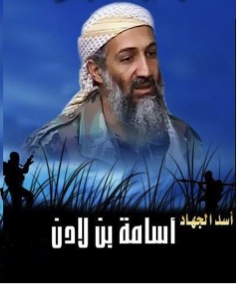 The image contains a number of familiar elements in jihadi imagery: a picture of Usama bin Ladin against a blue sky with white clouds and a silhouette of grass (fauna) and armed fighters, one shouldering an RPG, the other waving what is likely an AK-47. The caption at the bottom is yellow and white and reads: "asad al-jihad Usama b. Ladin" ("the lion of jihad, Usama bin Ladin").
Within the context of the image and its timing, the yellow combined with the other visual elements signals to the viewer that Usama bin Ladin achieved his wish of martyrdom.
Group Type
Jihadist Group
Secondary Colors
Black, White
Isolated Phrases / Mottoes / Slogans
Asad al-jihad Usama b. Ladin
Groups Region of Operation
Global
Geopolitical Symbols
Slogan
People
Group Leader / Influential figure, Operational Leader, Man / Men
People Analysis
Usama b. Ladin (AQC). UBL and two silhouettes of armed fighters.
Flora
Grass / Leaves / Branches Only
Topography
Valley / Meadow, Horizon
Visual Themes
Like in other cultures, blue can conjure up hope and heavenly paradise, i.e., life after life.