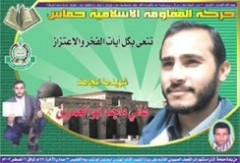 While Muslims across sectarian lines share a reverence for many holy sites, some sites hold special significance for certain groups. For instance, the al-Aqsa mosque (located in Jerusalem) is recognized and revered by all Muslims, but it is also a powerful symbol of Palestinian nationhood. In fact, unlike the Dome of the Rock, the mosque is not generally used as a pan-Islamic symbol, but rather is usually employed as an Islamic symbol of Palestinian national identity.
Here, the image features a deceased Hamas operative, Hani Majid Abu al-`Umarayn, who appears against a green background and symbolic rays of light emanating from the sacred mosque (rays of light give an aura of divination and life after death, i.e., the achievement of rank of martyrdom). The caption is an announcement of his martyrdom: "harakat al-muqawama al-islamiyya hamas tan'a bi-kull ayat al-fakhr wal-i'tizaz: shahiduha al-mujahid hani majid Abu al-'umarayn" ("Hamas announces with all signs of honor and pride, the death of its mujahid martyr").  The caption continues in very fine print at the bottom of the image, detailing the deceased's town of residence and the location, occasion and date of his death (21 August 2003).
Group Name
Hamas - `Izz al-Din al-Qassam Brigade
Group Type
nationalist, religious
Secondary Colors
Red, Black
Visual or Textual Reference to Significant Recent Events
Date EntryAnalysis Entry
21/08/2003
Textual reference to 8/21/2003 death of the Qassami operative in the image
Isolated Phrases / Mottoes / Slogans
Harakat al-muqawama al-islamiyya hamas tan`a bi-kull ayat al-fakhr wal-i`tizaz: shahiduha al-mujahid hani majid Abu al-`umarayn
Groups Region of Operation
Middle East
Groups Country of Operation
Israel/Palestine
Geopolitical Symbols
Symbol of party, movement or company, Slogan
Geopolitical Analysis
Hamas logo - Dome of the Rock flanked by two Palestinian flags, a green map of Palestine at the top, two crossed swords at the bottom, green banner at the bottom bears full name of the group of which Hamas is the acronym.
People
Operative / Warrior (=mujahid), Man / Men, Child
Religious Symbols
Holy Site
Religious Symbols Analysis
Al-Aqsa mosque and Dome of the Rock
Topography
Man-made Structure / Landmark
Topography Analysis
Domed mosque and holy site
Visual Themes
The fact that most of the image is colored in green—which is considered the traditional color of the Prophet Muhammad's tribe, and which has been adopted as a sacred color based on Qur'anic verses (76:21; 18:65-82) and a reliable hadith (prophetic tradition or report) that associates green with "universally good things"—further emphasizes the religious importance and dimensions of the martyrdom described in the image.