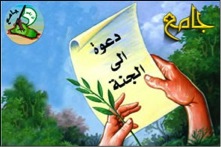 The caption in the image reads: "da'wa ila al-janna" ("an invitation/call to paradise"). The lush greenery/fauna is a common element in jihadi imagery and almost always conjures up notions of the Islamic concept of heaven as a lush garden (janna). To the left of the hand clasping an olive branch appears fauna that is no longer green. Its reddish hue signals to the viewer that the invitation to paradise was heeded, thus bestowing the rank of martyr on the figure holding the piece of paper. The yellow here has a positive connotation, as it echoes the color of gold, the sun, butter and honey, divine power and glory.
The white clouds evoke Allah's total inscrutability prior to creation. In addition, as the bearer of rain, clouds are considered a symbol of khayr (bounty/good), which is a synonym for rain, and of good things to come. Hence, the clouds further associate martyrdom with positive notions.
The acronym for the group's name JAMI (al-Jabha al-Islamiyya lil-Muqawama al-`Iraqiyya) appears in the top right corner.
Group Name
JAMI (al-Jabha al-Islamiyya lil-Muqawama al-`Iraqiyya) aka Islamic for the Iraqi Resistancemilitary wing: Kata'ib Salah al-Din al-Ayyubi
Group Type
nationalist, religious
Dominant Colors
Light Blue, Green
Secondary Colors
White, Red
Isolated Phrases / Mottoes / Slogans
Da`wa ila al-janna.
Groups Region of Operation
Middle East
Groups Country of Operation
Iraq
Geopolitical Symbols
Symbol of party, movement or company, Slogan
Flora
Trees / Shrubs, Grass / Leaves / Branches Only