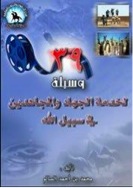 The caption in the image, which reads "39 wasilatan li-khidmat al-jihad wal-mujahidin fi sabil Allah" ("39 ways to serve jihad and mujahidin for the sake of God"), is the title of a text published on the al-Faruq website. The website, which is directly affiliated with al-Qa'ida, bears the horse and automatic rifle logo of al-Qa'ida on its homepage, and this logo also appears in the top left corner of the image. The text referenced in the image was authored by Muhammad ibn Ahmad al-Salim (also known as 'Isa bin Sa'ad bin Muhammad Al 'Awshin), a Saudi ideologue who wrote for the magazine published by al-Qa'ida in the Arabian Peninsula, The Voice of Jihad (2003-2008), and whose name appears at the bottom of the image. In addition to the book title and the al-Qa'ida logo, the image includes a drop of water or ripple in water, which typically suggests religious purity and can conjure up notions of the afterlife and paradise. It is also used to symbolize God's assistance and generosity to the pious. The image also includes a representation of a horse, an important symbol in both pre-Islamic Arabia and Islamic culture. Traditionally, horses have been ascribed positive qualities, such as chivalry, bravery in battle and victory, as evidenced in pre-Islamic poetry, hadiths (prophetic traditions or reports) and other genres of literature. Horses are also symbolic of the first generation of Muslims and their successful military campaigns, and are thus often employed to evoke specific Salafi religious sentiments with regard to the military victories of Muhammad and his companions and to the concept of jihad itself. Finally, the word "al-Jihad" is watermarked across the image.
Group Name
Markat al-Dirasat wal-Buhuth al-Islamiyya (AQ mouthpiece 2002-2003)
Secondary Colors
Red, Brown, White
Groups Region of Operation
Middle East, Global
Groups Country of Operation
Afghanistan
Weapons
Firearms, Rifle / Long Gun, Automatic / Assault Rifle, Rockets, Missile
Liquid
Drops / Tear, Ripple, River / Stream
Geopolitical Symbols
Symbol of party, movement or company
Geopolitical Analysis
GIMF or al-Farouq logo, black horse with rifle against white halo and bright blue border.
People
Operative / Warrior (=mujahid), Man / Men
Topography
Mountain, Path