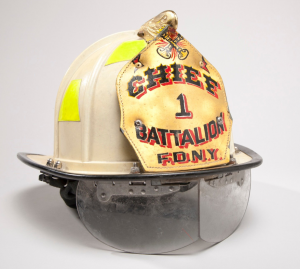 Congratulations to CTC Senior Fellow Chief Joe Pfeifer on his retirement after 37 years of service to the FDNY, the last 14 heading the Center for Terrorism and Disaster Preparedness. He has been a humble and dedicated servant to his city and country, and a great friend to the CTC.
Chief Pfeifer's leadership in crisis on 9/11 and his subsequent dedication to the CT mission has inspired countless cadets during his many years with the CTC. Each one of those young leaders is a better officer as a result of the time Joe took to teach and mentor them.
Chief Pfeifer during his retirement ceremony
Chief Pfeifer helps his nephew, Cadet Scott Machcinski, USMA '14, at the annual CTC-FDNY Cadet Crisis Simulation.