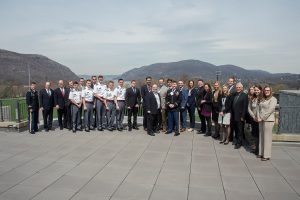 On 5-6 April, the Combating Terrorism Center hosted its 4th Annual Cadet/Student Conference. The conference provides a high-level forum for undergraduate and graduate students to present research focused on the characteristics, causes, and implications of terrorism and insurgency as well as broader issues related to asymmetric conflicts. This year's experts included the Honorable Juan Zarate, chairman and co-founder of Financial Integrity Network, former Deputy National Security Advisor for Combating Terrorism (2005-2009) and CTC's Class of 1971 Senior Fellow; Dr. Victor Asal, Chair of Public Administration and an Associate Professor in the Department of Political Science at SUNY Albany; and Dr. Mark Juergensmeyer, founding director of the Orfalea Center for Global and International Studies, professor of sociology, and affiliate professor of religious studies at the University of California, Santa Barbara. Student presenters hailed from such institutions as Stanford University, London School of Economics, Kings College, and UMASS Lowell. The two-day event featured addresses by COL Cindy Jebb, head of the Department of Social Sciences, and AMB Michael Sheehan, CTC's Distinguished Chair, as well as presentations by several cadets.
CTC Director LTC Bryan Price introduces the first panel of the CTC's 4th Annual Cadet/Student Conference.
Cadets, faculty, and distinguished guests attend the CTC's annual conference.
CDT Joe Presti presents his research during the CTC's annual conference.
Cadets, scholars, experts, and CTC staff and faculty during the CTC's annual conference