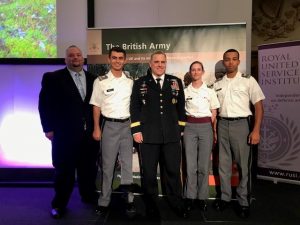 Dr. Richard Yon organized a three week long comparative study of counterterrorism in the United Kingdom (UK). CDTs Bailey, Aversa, and Mitchell met with academics studying counterterrorism at King's College to include: Sir David Omand (former Director of GCHQ – UK Sigint Agency who developed CONCEPT – the UKs counterterrorism strategy) and Dr. Shiraz Maher (Deputy Director of the International Centre for the Study of Radicalisation). Cadets engaged with Scotland Yard by visiting Fort Halstead, the location of Scotland Yard's Forensic Explosives Laboratory for the entire UK. Cadets toured the facility and spoke with scientists engaged in DNA and forensic processing of explosives used in terror attacks in the UK, to include the recent Manchester bombings. They also got to meet with the former director of SO15 Counter Terrorism Command for New Scotland Yard, Richard Walton.
Dr. Richard Yon, CDT David Mitchell, GEN Mark Milley, CDT Savanna Aversa, and CDT Jordan Bailey meeting at RUSI Conference on Land Warfare.
CDTs Savanna Aversa, David Mitchell and Jordan Bailey with Lord Jonathan Evans (former Director of MI5)
Cadets spent considerable time engaging with the Royal United Services Institute (RUSI). They met with Raffaelo Pantucci, director of international security studies at RUSI and attended the annual land warfare conference hosted by RUSI in which they met with General Mark Milley and General Sir Nicholas Carter of the UK. Cadets had lunch with an analyst for the Ministry of Defence, Paul Engeham, who is also a retired Naval officer. During the trip cadets visited the American Embassy in London where they met with the legal attaché, customs officials, and those involved in counterterrorism.
Cadets also traveled to East London, a hot bed for radicalization, to meet with the Unity Initiative. They toured a school sponsored by the Unity Initiative, visited a mosque, and met with two individuals that were de-radicalized by the Unity Initiative. Lastly, cadets spent considerable time visiting museums, memorials, and tourist attractions in and outside of London. These included visits to Sandhurst, Churchill War Rooms, Buckingham Palace, Blenheim Palace, Oxford, Canterbury, Westminster, the Cotswolds, Windsor Castle, Stonehenge, Bath, among others.
CDTs Jordan Bailey, David Mitchell and Savanna Aversa with teachers at a preschool started by the Unity Initiative
CDTs David Mitchell, Jordan Bailey, and Savanna Aversa meeting with Usman Raja (Chief Executive of Unity Initiative) and two former radicalized individuals.
CDT David Mitchell, reflecting on his experience stated, "The purpose of this AIAD was to explore counterterrorism in the United Kingdom context. As Americans, we are only exposed to counterterrorism from the US viewpoint, despite terrorism being a global fight. Hence, it would be highly beneficial to study CT from one of our country's closest allies in the Global War on Terror, and one that has been dealing with terrorism for longer than us. As such, we organized a holistic trip that included meetings with academics, experts in the field, and government security officials. We discussed topics such as the evolution of British terrorism, beginning with the terror of the IRA in the 1990s and radical Islamic terrorism ever since. The trip only furthered my passion for studying international conflict and the threat posed by radical Islamic terrorism." CDT Jordan Bailey stated, "I learned more than I could have ever imagined and had the opportunity to attend meetings with individuals and organizations that would be very difficult to get anywhere else."