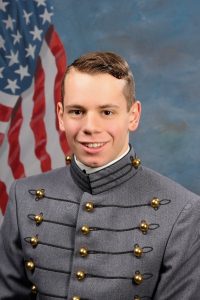 Meet Cadet Zachary Aponte, the CTC Cadet of the Month for November. Zach is originally from Weston, Florida, and is the son of Eddie and Audrey Aponte. At the United States Military Academy, he is majoring in International Relations and minoring in Terrorism Studies, with a focus in counterterrorism. Zach is a member of the Club Soccer team as well as the Assistant Cadet in Charge of the International Affairs Forum. As a senior, he serves as the Brigade Military Development Officer. During his time off, Zach enjoys traveling, spending time with friends and family, and playing sports. 
Since joining the minor, Cadet Aponte has had the opportunity to engage in an internship with the FBI Counterterrorism Division in Washington, D.C. Zach spent one month with the FBI where he was exposed to numerous counterterrorism sections, including executive management of FBI counterterrorism operations, TOS 1 and 2 (international terrorism operations section) and DTOS (domestic terrorism operations section) as well as other specialty teams (FBI dive team, evidence recovery, HRT/ SWAT). His research while on this internship focused on the growing problem of domestic terrorism within the military and among former military members, specifically looking at ways that the FBI can partner with DoD to help identify, investigate, and disrupt military HVE subjects.
Zach is looking forward to graduating from West Point and commissioning as either an Aviation or Armor Officer. He hopes to either fly Apaches at Joint Base Lewis McChord or go to the Armor Brigade Combat Team at Ft. Bliss. In the future, Zach aims to use his knowledge and experiences from the CTC to pursue a career at the FBI focusing in counterterrorism.