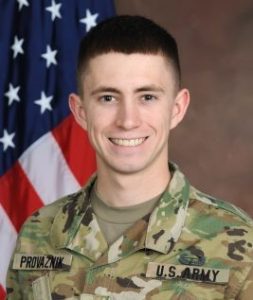 Meet CDT Wade Provaznik, the CTC Cadet of the Month for October 2017. The senior from Fort Collins, Colorado, has focused his academic interests on national security policy and terrorism, majoring in Systems Engineering and minoring in Terrorism Studies. He currently serves as the Brigade Military Development Officer, overseeing all academic year military training operations for the Corps of Cadets. Wade enjoys reading, playing soccer, and training for the upcoming Marine Corps Marathon (his first). In addition to his studies with the CTC, he has earned the Dean's Pentathlete Award, the Superintendent's Award for Excellence, and the Distinguished Cadet Award.
Previously, Wade interned at the Defense Intelligence Agency's Defense Combating Terrorism Center, conducting terrorist targeting analysis, monitoring Afghan and Pakistani intelligence streams, and contributing to revised histories of the Islamic State-Khorasan and al-Qa`ida Core. This summer, Wade interned with the South and Central Asia directorate of the National Security Council at the White House. While there, he authored memoranda advising Assistant to the President for National Security Affairs, Lieutenant General H.R. McMaster, and Deputy Assistant to the President, Ms. Lisa Curtis, on matters related to Afghanistan, while hosting foreign dignitaries, senior U.S. military leaders, and government officials.
Currently, Wade is undertaking a capstone project for the Army's Intelligence and Security Command to improve the Army's Open Source Intelligence capability by combating the "echo effect" found in social media and intelligence reporting. His senior thesis, however, will primarily focus on identifying and understanding the formal and informal relationships that govern U.S. national security to explore the policy development process and organizational efficiency. Wade plans to serve as an Aviation Officer in the United States Army and draw from his tactical experience and strategic understanding to lead in the national security community both in and out of uniform.