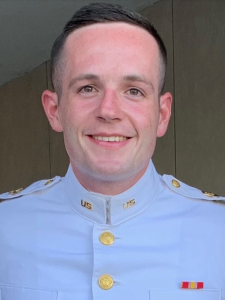 Meet Cadet Trevor Brenneman, the CTC Cadet of the Month for September 2019. Trevor is from Sioux Falls, South Dakota, where he attended Sioux Falls Roosevelt High School. Here at the United States Military Academy, he is a member of Company H-2, is majoring in International Relations and minoring in Terrorism Studies. As a senior, he serves as the Co-Cadet in Charge of the Terrorism Studies Minor, the S4 of the Law Enforcement Tactics Club, a member of the International Affairs Forum, and the coach of the H-2 floor hockey team.
Since joining the minor as a yearling, Trevor has had the opportunity to apply the skills he has learned in and out of the classroom in several practical exercises and internships. He has attended training events with the FBI's Hostage Rescue Team, the NYPD's Strategic Response Group, spent a month in Central Africa, as well as interacted with leaders in the counterterrorism and national security sectors. Trevor has also had the opportunity to intern at the FBI's Washington Field Office working with a criminal squad as well as their SWAT team, at the Department of State working security issues in the Western Hemisphere, and most recently with the National Security Agency focusing on counterterrorism in the Levant. During these experiences, Trevor was able to gain a basic operational and tactical knowledge of how the Department of Defense collects and implements intelligence in the counterterrorism fight, as well as gain first-hand experience with the interagency national security process.
Trevor is looking forward to graduating from West Point and hopes to commission as a Military Intelligence Officer in May 2020. In the future, Trevor plans to use the skills and knowledge he has gained through the CTC as the foundations for his career in the Army and beyond focused on national security law and its applications to the counterterrorism fight.