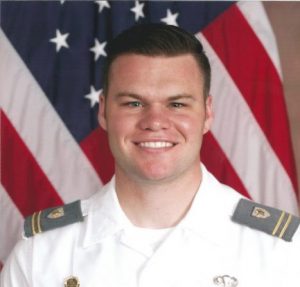 Meet CDT Scott Buchanan, the CTC Cadet of the Month for November and the Co-Cadet in Charge of the CTC's minor in Terrorism Studies. Since enlisting in the New Jersey Army National Guard as a Military Police officer and his acceptance to USMA, Scott has focused his academics on law enforcement policies, and counterterrorism, majoring in Economics and minoring in Terrorism Studies. Hailing from Belmar, New Jersey, Scott spends his free time surfing, reading, and investing in the stock market. In addition to his time with the CTC, he has earned the Distinguished Cadet Award and has recently been announced as a recipient of the Anna Sobol Levy Foundation Scholarship to study at the Interdisciplinary Center (IDC) Herzliya in Israel.
Since joining the minor, Scott has been a member of the CTC's team for the Countering Violent Extremism Project under the Department of State's Peer-to-Peer program. He has also interned with the FBI's Joint Terrorism Task Force (JTTF) out of the Kansas City Field Office. In the Department of State's competition, Scott helped launch an online campaign against the Islamic State's online extremist narrative. By assisting with the creation of the mission statement, vision, and website for the campaign, the CTC's team won second place against national and international schools. During his internship, Scott spent seven weeks with the JTTF where he contributed to ongoing investigations of terrorism-related cases within the United States.
Currently, Scott is gearing up for graduation from USMA and his immediate transition to the IDC in Israel. There, he will earn an MA in Government, specializing in Counter Terrorism and Homeland Security. After graduation from the IDC, Scott plans to serve as a Military Intelligence Officer, with a branch detail in Armor for the United States Army. He hopes to further his professional career by drawing from his academic and military experiences to contribute to the intelligence and national security community.