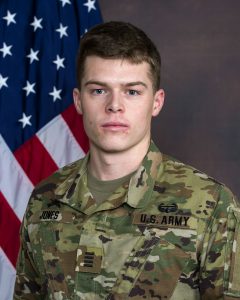 Meet CDT Samuel Jones, the CTC Cadet of the Month for January 2018. A senior from Ellicott City, Maryland, CDT Jones is an international history major with a minor in terrorism studies. He currently serves as the Company Commander for the G1 Greeks. CDT Jones enjoys running, reading, and traveling.
Through the CTC, CDT Jones has had the opportunity to travel to Washington twice to meet with members of the FBI, NCTC, and CIA. In the summer of 2017, he served an internship at the FBI's Joint Terrorism Task Force in Kansas City, Missouri. There, he and two other cadets learned how the JTTF works with local law enforcement and had the chance to assist the agents with case-related work. CDT Jones also presented a paper on the expansion of ISIS in the Philippines at the CTC's Cadet Symposium on Terrorism in April 2017.
CDT Jones will graduate from West Point in May. His senior thesis focuses on U.S. support for counterinsurgent forces in the 1960s. He will commission as an Armor Officer and intends to pursue either a long service in the Army or a career in the national security community.