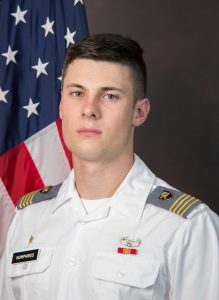 Meet CDT Sam Humphries, the CTC Cadet of the Month for February. Hailing from Washington State, Sam majors in Mathematical Sciences with a minor in Terrorism Studies. His academic interests include data science, climate-caused conflict, and Middle East foreign policy. This year, Sam has had the opportunity to serve as company B2's commander and currently as his battalion's executive officer. In his free time, Sam enjoys playing soccer, participating in the Student Conference on US Affairs (SCUSA), sparking climate action around campus, and learning the ukulele. 
Since joining the minor in his freshman year, Sam has participated in several CTC events while focusing his research in the minor around the rise of extremism in West Africa. This past summer, Sam got the opportunity to intern with the Middle East Directorate of the National Security Council at the White House, where he worked on conducting data analysis on threats in Yemen and making improvements to the directorate's Iran assessment process. Sam also spent some time combing through reports with the Terrorism Directorate and learning about emerging threats. Sam's experience at the NSC showed him the inner-workings of the interagency and helped shine light on how high-level policy is made. 
After graduation, Sam plans to serve as an Infantry officer and hopes to post to Vicenza, Italy. Following his time in the infantry, Sam hopes to serve as a Military Intelligence officer. After the Army, Sam plans to help address climate-caused conflict in the Middle East through serving in the State Department. Eventually, Sam hopes to better inform climate-related policy in the Middle East and around the world.