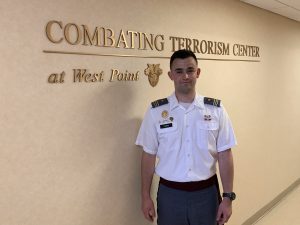 Meet Cadet Nick Cobos, the CTC Cadet of the month for May 2019. The senior from Pinehurst, North Carolina, has focused his time at the Academy on global affairs and national security, majoring in Defense and Strategic Studies and minoring in Terrorism Studies. Nick has been a member of his Company G3 Sandhurst Team for his entire time at West Point. He enjoys spending time playing flickerball with his friends and loves to go fishing whenever his Cadet schedule allows. In his time at West Point, Nick has successfully completed the Chilean Mountain School MIAD and has been awarded the Air Assault Badge and the German Armed Forces Proficiency Badge, as well as the Recondo and Distinguished Cadet awards.  
Since joining the minor, Nick has had the opportunity to participate in many trip sections to the FBI JTTF in New York City, the National Security Council, the CIA, and the Defense Intelligence Agency. During these trip sections, Nick has been exposed to a broad range of law enforcement, military, and intelligence counterterrorism tools and processes while gaining a new understanding and appreciation for our nation's counterterrorism experts and community.
Nick is looking forward to graduating from West Point, commissioning as an Infantry Officer, getting married to his high school sweetheart, and arriving at his first duty station with 4th Brigade, 25th Infantry Division at Joint Base Elmendorf-Richardson, Alaska. In the future, Nick hopes to use the knowledge and skills he gained from the CTC to better serve the nation as an Army Officer.