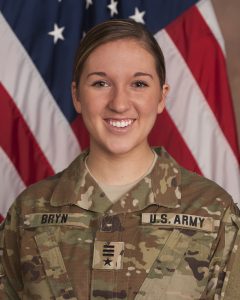 Meet CDT Megan Bryn, the inaugural CTC Cadet of the Month and the co-Cadet in Charge for the CTC's minor in Terrorism Studies. The senior from Ashburn, Virginia, has focused her academic and leadership development on global affairs and terrorism, majoring in International Relations and minoring in Terrorism Studies. She is a three-year Division I volleyball player who was recognized last year as being one of the nation's top student-athletes. In addition to her time with the CTC and as a Cadet Advisor for International Affairs, she has earned the Superintendent's Award for Excellence and the Distinguished Cadet Award.
Undertaking a project for the Pentagon's Office of Net Assessment with a cadet-faculty team this spring, Megan analyzed long-term relations among great-powers and briefed policy recommendations for the Secretary of Defense. In fact, Megan was slated for a CTC AIAD this summer with the National Security Council, but a knee injury late in the semester sidelined her for the early summer.
Megan's senior thesis will build upon this research as well as her other work on terrorism, to explore the nexus of intelligence, defense policy, and diplomacy. Her work will specifically focus on the challenges and opportunities in forming synchronized counterterrorism strategies that span across governments, militaries, and agencies. She presented her paper, "Understanding the Narrative: The Crucial First Step toward the Reduction and Prevention of Radical Jihadism," at the Combating Terrorism Center's Cadet Symposium on Terrorism in April 2017. This paper was recently accepted for publication by the Yale Review of International Studies. Megan plans to serve as a Military Intelligence Officer in the United States Army and draw from her operational experiences to lead in the intelligence and international security communities throughout her career.