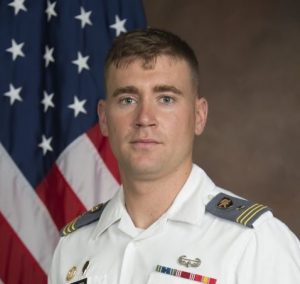 Meet CDT Keaton Crowder, the CTC Cadet of the Month for December. CDT Crowder enlisted in the U.S. Army in 2012, and following completion of Basic Combat Training in Fort Sill, OK, he attended the Defense Language Institute Foreign Language Center at the Presidio of Monterey, CA. In 2014, he was accepted to the United States Military Academy, ending his 22-month service and beginning a new chapter in his military service.
CDT Crowder is from Hughson, CA, and enjoys hiking, skydiving, and solving problems. He was acknowledged as a translator for the CTC's report entitled The Caliphate's Global Workforce, which was subsequently featured on NBC Nightly News in April 2016. Additionally, he interned at the National Security Agency and Defense Intelligence Agency under the CTC's tutelage.
While in the CTC's Terrorism Studies minor, CDT Crowder has focused on translation and analysis of Islamic State governance and demographic documents. He also was a member of USMA's award-winning team that competed in an international competition sponsored by the U.S. State Department and Facebook to create a social media campaign to counter the narrative of the Islamic State. The team was invited to brief officials at the White House and at the U.S. State Department, and their project was featured in The Washington Post.
Currently, CDT Crowder is preparing to commission as an Infantry Officer into the United States Army. He intends to continue his service in Fort Bragg, NC.