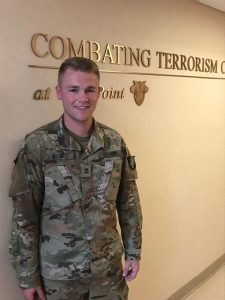 Meet Cadet Harry Reed, the CTC Cadet of the Month for September 2018 and the Cadet in Charge for the Terrorism Studies Minor. Harry is originally from Southwick, Massachusetts, and is the son of Tom and Ann Reed. Since being accepted to West Point in February 2015, Harry has focused his academics on law and legal studies and counterterrorism. Harry has been a member of his company's Sandhurst Team during all semesters of his tenure at the Academy. He enjoys spending time practicing with his team, and serves as Sandhurst squad leader during the 2019 school year. During time off, Harry enjoys traveling, fishing, skiing, and playing golf.
Since joining the minor, Harry has had the opportunity to engage in an internship with the FBI Fly Team. Harry spent three weeks in Washington D.C. with the FBI and was exposed to many facets of the Bureau such as counterterrorism operations, the Hostage Rescue Team, and counter gang and drug task forces. He participated in a data acquisition class, weapons qualification, SWAT training, and a search warrant of a known drug house. Harry also spent time working with a gang task force at the Hampden County Correctional Center in Ludlow, Massachusetts. At the jail, Harry developed his counseling skills by working with convicted gang members who were working to earn degrees and remove themselves from the gang lifestyle.
Harry is looking forward to graduating from West Point and commissioning as a Field Artillery Officer. He hopes to post to Fort Campbell, Kentucky, and become a member of the 101st Airborne Division. In the future, Harry aims to use his knowledge from the CTC to work in a state or federal law enforcement organization, focusing on counterterrorism or gang and drug violence.