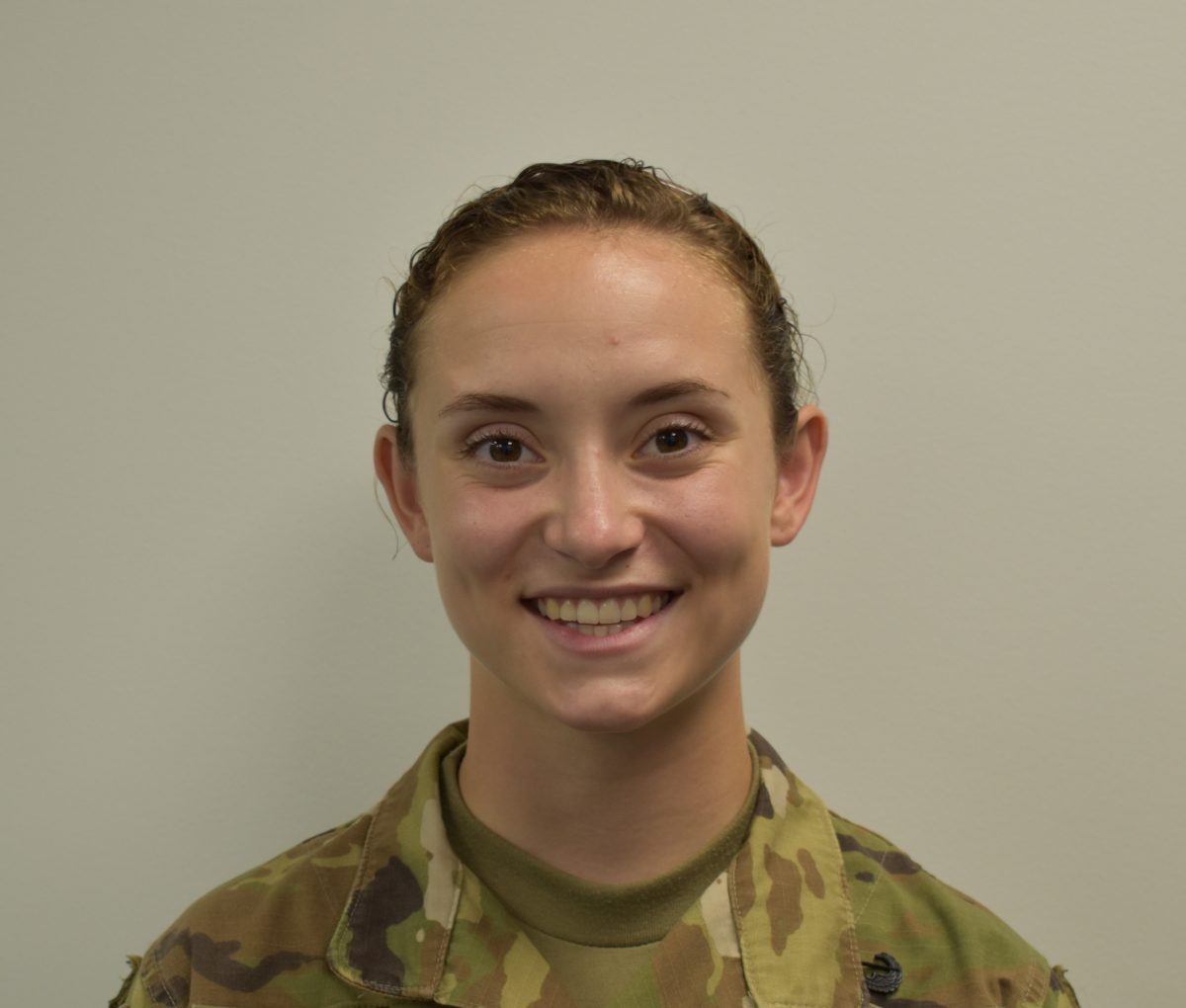 Meet CDT Cali Evans, the Cadet of the Month for September 2020. A senior at West Point, Cali is from Grafton, Massachusetts. The daughter of Michael and Valerie Evans, CDT Evans is majoring in Defense and Strategic Studies and pursuing a minor in Terrorism Studies. She currently serves as the Company Trust Officer for the D1 Ducks, where she is an educator and advocate for victims of sexual assault and harassment at West Point. Cali has been on the Dance Team for all four years at the Academy and enjoys exploring the outdoors, weightlifting, and watching movies.
CDT Evans is currently applying for graduate school programs to continue her education in international security and terrorism studies. Following graduate school, she hopes to branch detail as an Armor Officer before transitioning in service as a Military Intelligence Officer. She looks forward to understanding the combat arms side of the Army to better inform her intelligence work later in her career.
What does the Terrorism Studies minor mean to you?
I knew I wanted to join the minor since my squad leader told me about it during Beast in 2017. I remember trying to declare Terrorism Studies as my minor before we even had the chance to declare our majors! I was welcomed into the minor with open arms and attended every event offered, from movie luncheons to panel discussions. I'm thankful Dr. Richard Yon [CTC's Director of Terrorism Studies] gave me the opportunity to take a senior-level course as a sophomore ("Terrorism: New Challenges"), which showed me early on the caliber of work and research expected, not just in the Terrorism Studies minor, but in the intelligence community (IC). That summer, Dr. Yon put his full faith and confidence in me by sending me to intern with the Defense Combating Terrorism Center branch of the Defense Intelligence Agency. During those five weeks, I learned about the intelligence cycle, how DoD personnel interact with civilians in the IC, how the IC coordinates between agencies, and I even had the opportunity to help analyze intelligence and publish a classified intelligence product. The Terrorism Studies minor has given me one of the most eye-opening, professional development experiences of my cadet career and I am beyond thankful.
What does the CTC mean to you?
I did not fully understand the prominence of the Combating Terrorism Center (CTC) at West Point as an underclassman. I believed it was simply the research branch of the Terrorism Studies Minor. I discovered the reality during my internship with DCTC. At every agency I visited, intelligence analysts at the top of their field, when they heard I was from the CTC, would approach me with excitement about the work the Center was doing. I never realized the importance of unclassified research in a world of highly classified information. The CTC has supported me in making meaningful connections in the IC, which I would never have achieved otherwise.