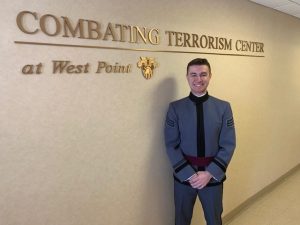 Meet Cadet Austin Weiher, the CTC Cadet of the month for March 2019. Austin is originally from Kenosha, Wisconsin, and is the son of Alex and Carolyn Weiher. Since being accepted to West Point in February 2015, Austin has focused his academics on Organizational Psychology and Counterterrorism. Austin is a member of company C1, has participated on his company's Sandhurst team every semester of his cadet career, and is currently serving as C1's honor officer. During time off, Austin enjoys skydiving, SCUBA diving, exercising, and spending time with friends.
Since joining the Terrorism Studies Minor, Austin has had the opportunity to participate in trip sections to the FBI HQ in Washington, D.C., the Defense Intelligence Agency, the Pentagon, and the White House. During these trips, Austin was able to meet with many senior leaders who play a role in counterterrorism operations, which gave Austin a broader view of the United States' mission in combating terrorism. Additionally, he had the opportunity to engage in an internship with the Department of Defense that allowed him to further explore how the United States approaches national security and defense.
Austin is looking forward to graduating from West Point, commissioning as a Military Intelligence Officer, and arriving at his first post at Fort Bragg, North Carolina. In the future, Austin aims to capitalize on his knowledge from the CTC and the Terrorism Studies Minor to help progress the nation's mission in combating terrorism.