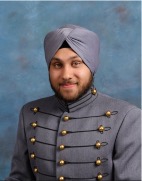 Tell us a little bit about yourself.
My name is Arjan Ghotra, and I was born in Fairfax, Virginia. Growing up, I enjoyed playing sports and being part of teams. I joined my state militia, the Virginia Defense Force, in 2015. I worked with them and learned some basic things about the military. My participation in a state militia, paired with the desire to serve, led me to enlist in the Virginia Army National Guard as an infantryman where I served in the historic unit that invaded the beaches of Normandy on D-Day. I was accepted to West Point in 2017. At the Academy, I am a dual major in Arabic and Persian with a minor in Terrorism Studies. I am in Company B-1; however, I am serving as the 1st Regiment Operations Officer for the year. I participated in company Sandhurst during the first couple of years at the Academy and later transitioned to company athletics. Now I am the Flag Football cadet-in-charge (CIC). During my cadet career, I have been a member of the Small Unit Tactics Team and Irregular Warfare Group.
What does the Terrorism Studies Minor mean to you?
The minor for me is an opportunity to learn about the various extremes and reasons why normal people would pursue abnormal activities. It's an opportunity for me to give more substance and depth to my Arabic and Persian majors, and learn more about the complex challenges facing our Middle Eastern partners. The minor is an opportunity to learn more about terrorism and the challenges it creates for national security, here at home and abroad, and what I can do to add to the collective effort of combating extreme violent organizations.
What does the Combating Terrorism Center mean to you?
The CTC has some of the most talented and knowledgeable instructors I have ever met. They are experts in their fields, and it's an absolute honor and privilege to learn from them. The CTC does an excellent job in providing depth to our understanding regarding terrorism. Bringing in guest speakers from various national security and intelligence agencies exposes us to the current challenges facing our nation. These guest lectures expand and broaden our classroom experiences.
What are your career and professional goals? 
I am looking forward to serving as an infantry officer in United States Army. I hope to eventually pursue a graduate degree in counterterrorism and homeland security and continue my research in this field.